I started cutting out coupons when we lived in Pittsburgh and I sucked at it, for a couple of reasons that I will go into here. I am by no means a pro right now or an "extreme couponer" like that shown on TLC, but I sure am working my way there! I'm becoming more and more a coupon snob though and thinking "I'm not going to buy that because it'll probably go on sale next week and I have a coupon that can make it really cheap" Probably not a bad thing, but here are some tips I have come across.
#1: Don't buy it just because you have a coupon -- In Pittsburgh this is what I did, I clipped my coupons then went to the store and bought pretty much everything I had a coupon for.
#2: Match coupons with sales -- A lot of times the coupon in this weeks insert won't match up with sales this week, but it will in the weeks to follow. A lot of the Red Plum and Smart Source coupons that came out in January that are set to expire April 30 are being paired with deals right now to be close to next to nothing
#3: Get more than one insert -- I currently get four inserts, some come to me whole and some come picked over slightly, everything helps though. This is really bad on my part but I actually don't buy any of the papers those four come from, they're all given to me. Maybe this is somewhere I could step my game up.
#4: Utilize coupon sites --
coupons.com
is a great one, if you have an iPhone use the GroceryIQ App which allows you to "clip" the coupon, send it to your email and then print from a printer (to continue saving print in grayscale on the economic setting)
#5: Utilize match-up sites:
The Krazy Coupon Lady
was featured on TLC's hit "Extreme Couponing" and lets you in on great information like what store you can match certain coupons with the get items dirt cheap.
Mom's Need To Know
I also really like because it offers specific deals for Martin's (Giant) which is where I like to shop. Also, some of the stores mentioned on The Krazy Coupon Lady are not applicable to where I live.
I went to Wal-Mart to score my haul below for $5.26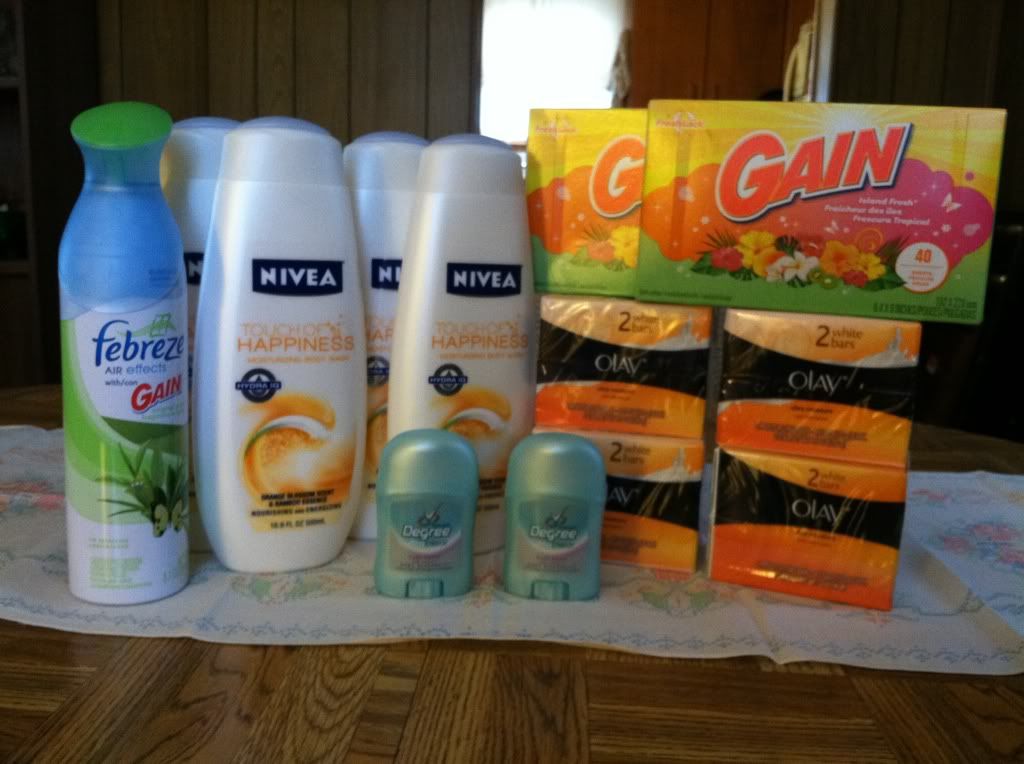 4 Nivea Body Washes = $3/each ($12) used 4 $3/1 coupons so all the body wash =
FREE
2 Degree Women's deoderant = $.97/each ($1.94) used 2 $1/1 coupons so they paid me $.06
4 Olay soap 2 packs =$2.48/each ($9.92) used 4 $2/1 coupons so all the soaps = $1.92 ($.48/each)
2 Gain Fabric sheets =$1.87/each ($3.74) used 2 $1/1 coupons so sheets =$1.74 ($.87/each)
Febreeze with Gain = $2.66 used $1/1 coupon so Febreeze = $1.66
Retail total = $29.26
My total = -$.06+$1.92+$1.74+$1.66= $5.26
$24 savings
I think the craziest thing is realizing you can get things for free! When I saw the price on the shelf was $3 and I had a coupon for $3 I thought there is no way possible, only the crazy ladies on the shows find deals like this, but you can too. Just keep your eyes open for a sale!
Happy clipping!