Sorry for the three (plus) month sabbatical. Shortly after posting my last blog post my husband found out he got a job in Pittsburgh. I had four weeks to find a place to live, find a job, pack and move. Thankfully everything worked out and went more smoothly than I ever could have imagined. A lot of that is due to my wonderful family!
In the past two months we've been settling in, trying to establish new schedules and of course having fun!
One project I've been working on perfecting is menu planning. I've been planning our meals two weeks ahead of time so that my grocery list is as detailed as possible. We've been trying out a bunch of new recipes and I'm working on a bigger project that I hope to have finished and up by the end of the summer.
We eat a lot of chicken dishes, and any meal that would originally call for ground beef we use ground turkey. I've never bought steaks or anything of the sorts for us to make. I'm not a health freak and when I go out I'll occasionally order a big juicy beef burger, but I've never really liked steaks and we get by just fine without red meats.
I wanted to share a couple of the recipes I've tried lately. They're definitely a different way to enjoy chicken!
Buffalo Chicken Lasagna
2 Chicken Breasts, cooked and chopped

1/2 cup Celery, chopped

1 cup Ranch Dressing

1/2 cup Hot Sauce

1 cup Ricotta Cheese

1 Egg, lightly beaten

2 cups Mozzarella Cheese, shredded

1/2 package No-Boil Lasagna Noodles
Preheat oven to 375 degrees.

Combine ranch cheesing dressing and hot sauce in a bowl. Set aside. In another bowl, stir together the ricotta cheese and egg. Set aside. Combine the chopped chicken and celery in another bowl.

To compose the lasagna, coat the bottom of a 9x13 baking dish with a thin layer of the dressing/hot sauce mixture. Place three lasagna noodles side by side over the sauce. Spread 1/3 of the ricotta/egg mixture over the noodles. Scatter 1/3 of the chicken and celery over the ricotta. Drizzle 1/4 of the ranch/hot sauce mixture over the chicken. Sprinkle 1/2 cup of mozzarella cheese over the sauce. Top with three more lasagna noodles. Repeat the layering process until you've used all of the chicken, celery, and ricotta. Top the final lasagna noodles with the remaining sauce and cheese.

Cover the baking dish with foil and bake for 45 minutes. Remove the foil and bake 10 minutes longer. Cool for 10 minutes before cutting and serving.
Jalapeño Popper Stuffed Chicken
1 8-ounce package cream cheese, softened

1/2 cup shredded cheddar cheese

2 jalapeno peppers, seeded and minced

4 strips of bacon, diced (optional)

4 (6 ounce) skinless, boneless chicken breast halves

1 cup seasoned bread crumbs (I used regular bread crumbs and seasoned them with salt, pepper, garlic powder and onion powder)

1/4 cup vegetable oil
Directions
Cook the bacon in a skillet over medium heat until crispy. Drain on paper towels.

Stir together the cream cheese, cheddar cheese, bacon, and jalapenos in a small bowl.

Cut a pocket horizontally through the thickest side of each chicken breast, and fill with 1/4 of the cheese mixture. Secure with toothpicks.

Roll the chicken breasts in bread crumbs to coat. Heat the oil in a skillet over medium-high heat, and cook chicken breasts until no longer pink in the center and the juices run clear, about 8 minutes per side. If your chicken breasts are thick, like mine were, they can be finished in a 350-degree oven.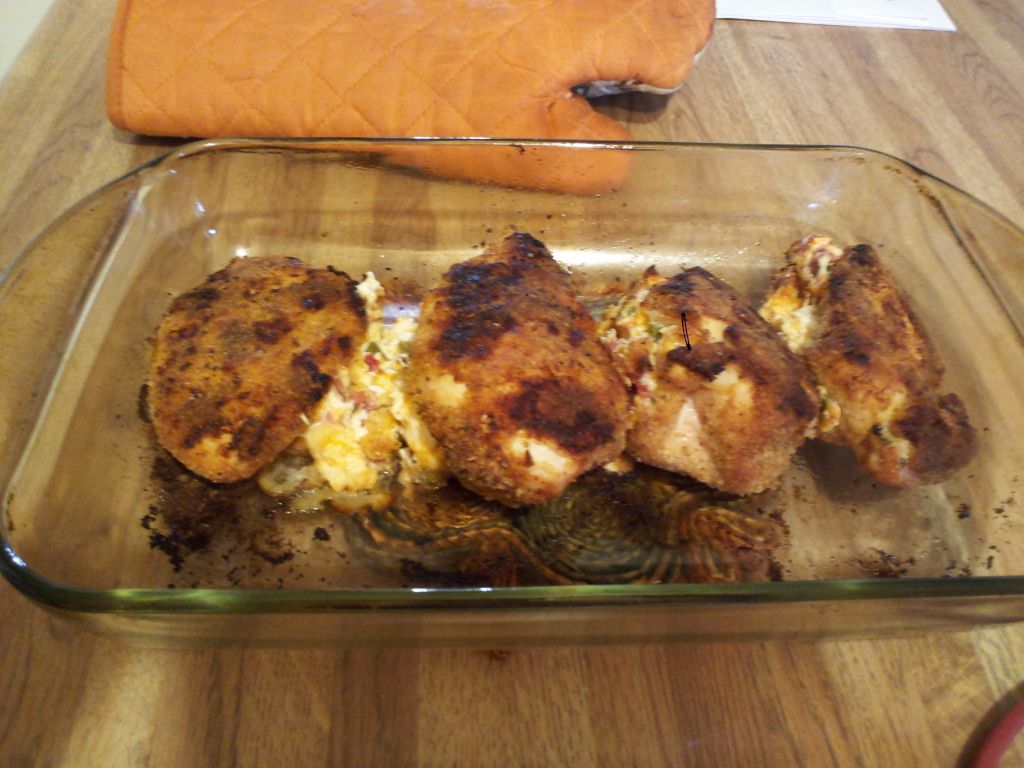 1 pound boneless, skinless chicken breasts, cut into strips

1 small can diced tomatoes with chilies

1 medium onion, sliced

1 large bell pepper, seeded and sliced

2 T vegetable oil

2 t. chili powder

2 t. cumin

1/2 t. garlic powder

1/2 t. dried oregano

1/4 t. salt

12 flour tortillas, warmed to serve
Preheat the oven to 400 degrees. Grease a 13×9 baking dish. Mix together chicken, tomatoes, chilies, peppers, and onions in the dish.

In a small bowl combine the oil and spices. Drizzle the spice mixture over the chicken and toss to coat.

Bake uncovered for 20-25 minutes or until chicken is cooked through and the vegetables are tender. Serve with warmed tortillas and your favorite toppings.