I found out I was pregnant November 3, 2012. It is amazing that it's already been over a year and now I have this beautiful four month old baby girl. In the beginning there are so many emotions you are overcome with. I was hoping I would have a healthy, full term pregnancy, I began to wonder what type of parent I would be and if I could raise someone to be a respectable human being. Most of all I began to worry about money. Babies are expensive.
I've recently become an avid coupon/bargain shopper and thought I would make the best of this nine month pregnancy and buy as much as I could throughout so I wasn't swamped with needed items when she arrived.
What's the most needed item that I can get a jump on, was my first thought, and diapers and wipes were it.
I began to research the best cost of diaper and how many it would be predicted are needed. (FYI the what's needed chart will vary between babies, Riley needed 6 packs of newborns, some may need more, some may need less and some may not wear newborn at all). Here was what I based my shopping on.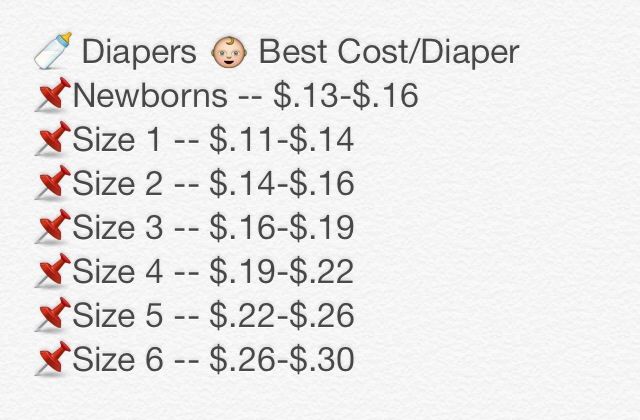 How did we do?
I didn't get away scotch free not having to run out and buy diapers. We had to run out and buy some newborns because even though Riley was a whopping 8 lbs. 14 oz. she stayed in those newborn diapers for longer than I expected. We're currently in size two, I don't imagine we'll be there much longer, so then we'll dive into that huge size 3 stash.
I did have one extra pack of size one, I held onto them and then was able to include them in a baby shower gift.
This chart is by no means a solid concrete this is how many diapers you need, but it's definitely a big help to get an idea if you want to jump start your buying.
In addition, my math was simple for wipes, for every pack of diapers I bought a pack of wipes, for every box of diapers I bought a jumbo pack of wipes (3 to a pack kind).
And this is how the stash looked, isn't it pretty?